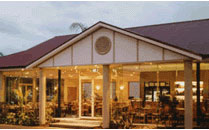 The Blue Lagoon Restaurant and Bar
(81 Cobra St – on the main highway, opposite McDonalds and up a bit).
It's all about atmosphere at the Blue Lagoon.
A great place for a romantic dinner overlooking the pool at night time. I have taken my wife for our wedding anniversary and dropped in some flowers earlier in the day to be waiting at the table for her. Smart casual dress.
At times I've had the best food in Dubbo here, at other times I've been disappointed with an overcooked steak or poor balance of flavours for the price – average $45 for entree and main.
If you dine here we'd love to hear your comments below.

giraffe rating 8.5/10