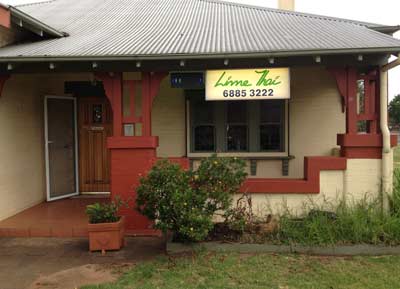 All I can say here is don't judge a book by it's cover.  It might look a bit daggy from the outside, but Lime Thai has exceptional Thai food, eat in or take away.   In my opinion Lime Thai has the best Pad Thai in Dubbo.
I find it hard to pick which is the best Thai food overall between Rose Garden and Lime Thai, it might depend on the dish you order.  Rose Garden has better atmosphere if you are dining in, but Lime Thai has 10% off for take-away.
The car-park is not obvious. You turn into Forest Lodge Motor Inn Entrance off Myall Street (248 Myall St) and then park at the front.
Open:
12-2 for lunch
5:30-9:30 for dinner
Closed Sundays
Home Delivery through Bruceys.
Click here for a menu: page1  page2

giraffe rating 7/10