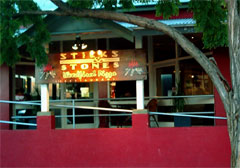 At the South end of Macquarie Street, Dubbo, Sticks and Stones has a fantastic range of wood fired Pizzas and other meals. Good atmosphere especially in winter with the wood fired oven!
They also do gluten free Pizzas on request, and have kids activity sheets available.
Recently they have added some delicious cakes and desserts and are open for Lunch and coffee.
For more info check out their webpage: http://www.sticksandstonespizza.com

giraffe rating 8.5/10