NATIMUK – AYR – PORT PIRIE – COWRA – COLLIE – SALE – ALICE SPRINGS – TUMBY BAY – DALBY – DUBBO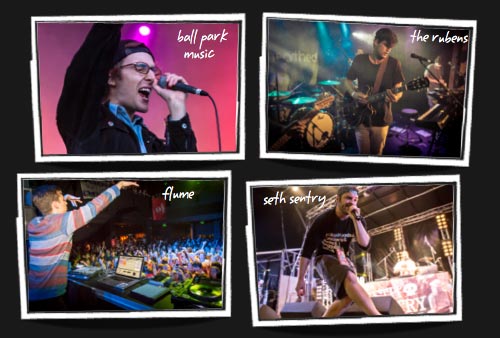 JJJ's One Night Stand is coming to Dubbo. That's cool.
The bands playing are Flume, Seth Sentry, The Rubens , Ball Park Music and People's Palace.
What:   A free concert. All ages, drug & alcohol free event.
When: Saturday 13 April 2013. Gates open at 4.30pm
Where: Dubbo Showground, corner of Fitzroy and Wingewarra Street, Dubbo (NSW)
Local Frequency: triple j 102.3
Website: www.triplej.net.au/onenightstand
What else can you do while you're in Dubbo?
The Old Dubbo Gaol is a good place to hang out for a few hours, lock yourself in hte solitary confinement, hear soem creepy stories. The Western Plains Zoo is Dubbo's biggest attraction. Be warned it's a long walk round the Zoo so take a car or bike and some food and drink.
Now the Gaol and Zoo might not cope with the whole One Night Stand crowd some of you might like to try some other options. There's Dubbo minigolf or the sci-fi themed Dr Who mini-golf at the Dubbo observatory. If you'd like to try waterskiing check out Adventure Watersports. There's some nice parks round Dubbo to hang out at. Wellington Caves is pretty good and only 40 min away.
I've heard most places in Dubbo are booked out so if you can't find accommodation, here's some places to camp!
The night before one night stand you might want to check out some local musos at Midnite Cafe (at the Old Dubbo Gaol).
Have a good visit.