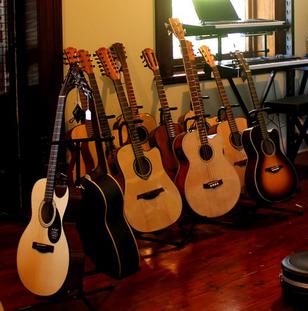 I wandered into the Old Bank Music shop last week and I was blown away. Far from begin just a small add-on to the Old Bank Restaurant, the Old Bank Music shop has to be one of the best music shops this side of the Blue Mountains. Mick, the owner, has gone out of his way to source some great gear and I would recommend you head on down and  have a chat. A friend of mine went down with a budget of $400 and he came back with a great guitar for the price. Mick was really helpful.
I entered the guitar room and to my surprise there were 20 or 30 guitars of all shapes and sizes,  It contained a selection you won't find in most Sydney Music shops. It has a wide range of guitars from beginners guitars to classic, custom and unique guitars imported directly from overseas.
Mick was very helpful, and gave me 3 Cole Clark guitars to try, explaining the different sounds from the different timbers used to make them. Cole Clark guitars  are hand made in Australia from timber such as Bunya, Tasmanian Blackwood and Queensland Maple, with beautiful craftsmanship, and each timber has a slightly different sound.
And that's just the guitars!
The shop goes on and on. Around the corner is a room full of drum kits! And in every room there was a surprise, a rubber stringed Kala Ukelele Bass, cigar box guitars, African drums, brass instruments, a good selection of amplifiers.
I have fond memories of visiting 'Venue Music' every time we visited Sydney. It was a classic. I think the Old Bank Music shop is on the way to becoming that kind of a music store. It has the right feel, the right smell, the right awe factor, you just want to stay all day. If you are a musician, beginner or advanced, you'll love it. Thanks to Mick for bringing such a classic shop to Dubbo.
I have taken some photos and will get them up as soon as I can.