There's a few places in Dubbo you can go for a swim:
1. The Dubbo Outdoor Pool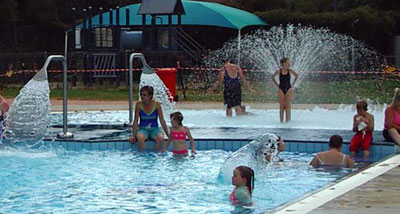 The Dubbo Aquatic Leisure Centre is a hive of activity in the summer months and includes a heated Olympic size swimming pool, a Children's leisure pool, water slides, BBQ, undercover areas and more.
2. The RSL Indoor Pool
25 metre, 8 lane indoor heated pool, squash courts, sauna, gym and more.
3. The Macquarie River
If you are a strong swimmer then there's a couple of places where you can access the river. The easiest access is probably Sandy Beach. Take the first right off Macquarie Street heading South from LH Ford bridge, drive through Lady Cutler Park, past the cricket ovals, and down near the river you'll find Sandy Beach.