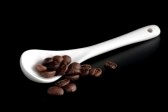 My favourite coffee shops in Dubbo at the the moment are Local Coffee Co (for best coffee), Sprouts Cafe (for healthiest and freshest food) and The Short Street Store  (great all round).
But – according to YOU (who voted in the 2014 dubbo.org coffee poll) – here's who makes Dubbo's best coffee…

That's slightly different to the hardcore coffee fans out there at Beanhunter. According to them, Brigade is #1 with Nova Scotia and Russo's Coffee Bar  at #2.
According to Trip advisor the best coffee shops are Dahab and Sprouts. They have a bit more room and a wider range of food, although the coffee is not quite as good.
So if it's just a coffee you are after, I'd go for Local Coffee Co, Russo's or Brigade.
For a coffee with your breakfast or lunch try Sprouts, Dahab or Short St Store.