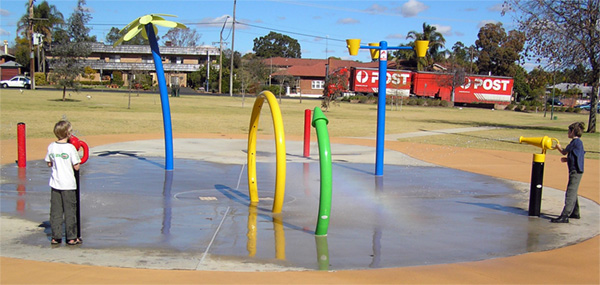 water feature at Elston Park

There are plenty of things for families to do together in Dubbo.
The Zoo of course is a great place to spend a couple of days. Riding bikes is a good option, and they have little tow-behind child-trailers for young children. If you get there early you can hire a 6-seater gold buggy – but be sure to get there 15 min before gates open if you want a buggy in holidays!
For the very young there's Kidzoo, and a number of parks with playgrounds. Wahroonga park on the very South of Darling Street has a good bike track for 5-10 year olds. Victoria Park has a good selection of swings and a new young children's playground plus a great skatepark for older kids.
For teenagers you might like to try Ten Pin Bowling, or the BMX track.
It's worth a day trip to visit Wellington caves and Phosphate mine and don't forget the Old Dubbo Gaol which has a great family show in school and public holidays.