Newtown Providores really is one of Dubbo's gems. The smell, the sounds, the friendliness, the atmosphere, it's like stepping into a different world. You must check it out! They have a great range of muffins – the White Chocolate, Raspberry and Macadamia Nut Muffin blew me away.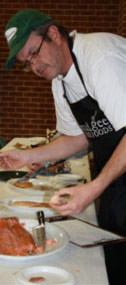 Newtown Providores is one of Dubbo's greatest small business success stories, a gourmet deli that has absolutely everything that Coles and Woolworths doesn't.
Buffalo cheese, goats cheese, every cheese under the sun, vanilla pods, herbs and spices, more herbs and spices, exotic pasta, chunky red pesto dip, sourdough bread, french truffles, salad dressings, organic chicken, the best ham in Dubbo (by a long mile), home made muffins, kaffir lime leaves, and the list goes on, and on, and on!
If you visit, make sure you leave plenty of time for a browse of the wares and a chat to the friendly staff. It's the brainchild of Peter Davis, a man as passionate about his food as he is about science, and let me tell you, Peter is passionate about his science!
STOP PRESS: Newtown Providores moved in May 2011 and is now at 63 Boundary Rd Dubbo – Opposite South Dubbo Tavern.
Open Mon – Fri 8am to 4pm
ph 6882 0055.
Peter also runs a coffee float at every Farmer's markets.
Newtown Providores on facebook.