Here are some places to camp (in a tent) around Dubbo.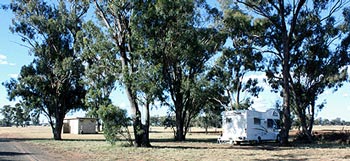 Eumungerie has a camp site at the sports ground in Eumungerie with toilets, power and hot showers –  contact the Post Office for details. $5 per night 39km North of Dubbo. You could park a caravan or motor-home here.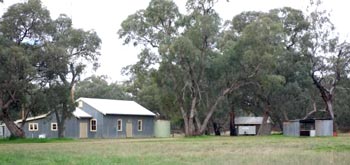 Similarly the Toongi hall is available for camping for gold coin donations. To find Toongi Hall head out of Dubbo out the Newell Highway as if you are going to Parkes, and turn left at the Zoo down Obley Road. Go past the Zoo on the right, and keep going along Obley Road for 23km.  Go past Toongi Road on the left. 200m  after Toongi Road turn left into Toongi Hall. Toilets and power with donation box. You could probably put a caravan here too. The camping fee is $5.00 donation.
Address: 220L Obley Road, Toongi NSW 2830
Phone (02) 6887 7200
Website http://www.toongihall.com.au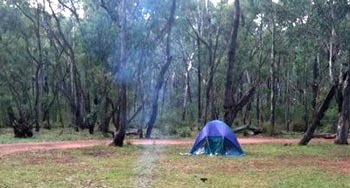 Goobang National Park is about 1.5 hr from Dubbo towards Parkes, a great place to pitch a tent. No power or showers, but built in fire places and toilets. (pdf brochure)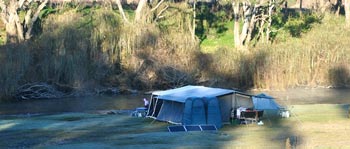 Ponto Falls is a good place to camp along the river, suitable for tents. No power or toilets. The turn off to Ponto falls is about 5-10km on the Dubbo side of Wellington, then 8km down to the river on dirt road.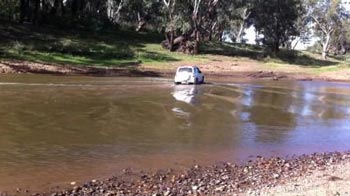 Wylandra Crossing is a nice place to camp by the river. No facilities. From Burroway Road turn left into Rawsonville Rd. When Rawsonville Rd turns sharp right, turn left and follow the dirt road to the reserve. You can access the other side of the river from Wylandra Crossing Rd which turns right off the Narromine Road about 6km out of Dubbo. GPS -32.189869, 148.496962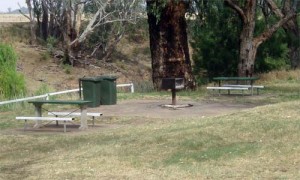 10km North of Dubbo is Terramungamine Reserve, another good place to camp.
For more campsites along the Macquarie river check out rivertrails.com.au, it's a great little site with camping information.
Also the Dubbo City Council has some info here and a map here.
Be considerate of others. Take your rubbish out with you. Enjoy!